So, the reason why I started this blog was to stay motivated and train for The Boilermaker. It has turned into a mish-mash of all things life-related, but that is really the point of it. Yesterday, I thought to myself, "Self, what better way to get some love and support on your blog than to let your family know about it!" So, I sent a handful of family and close friends this email yesterday:
Dearest Friends & Family,
I have decided to run The Boilermaker Road Race in 2009 (Utica, NY)! Although this race distance is no big deal to my incredible, 1/2 marathon-running sister, a 15K race will be my longest race yet, and I'm scared! =)
In order to stay motivated and keep myself fully committed, I have started a blog (www.joggerslife.com) about my race training, the ongoing battle with my knee (grrrr), and my life in general. I'm hoping that you will periodically check out my blog to see how I'm doing, drop me a line to say hi, or just read and laugh a little. I need all of the support I can get, as those of you who know me well know that I have a bit of a problem staying focused!
If you don't have time to read or check in, I won't be upset. Just keep me in your prayers! =)
Love, Beth
One of my favorite people in the universe is my Uncle Billy. He's a Murse.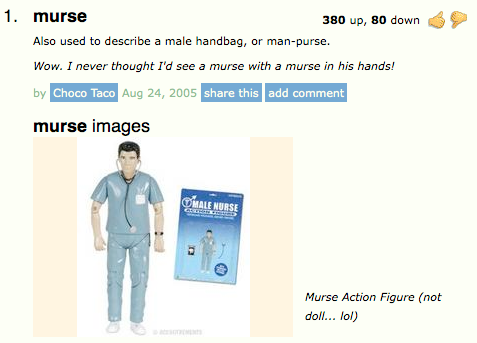 He's loving, caring, and he chose the perfect career.
Uncle Billy accidentally sent Jessica the email that was supposed to be for me:
From: Uncle Billy Subject: Re: Life! To: Jessica Date: Thursday, December 4, 2008, 8:46 AM
Beth My Dear,
All my Loved Ones are ALWAYS in my Prayers!!!!! I am Very Proud of you and your sister.
Love and Miss You, Uncle Billy
My sister was nice enough to send me Uncle Billy's email, but not without including a jab or two of her own first:
From: jessica Date: Thu, 4 Dec 2008 10:52:26 -0800 (PST) To: Uncle Billy, Beth Subject: Re: Life!
Beth,
You better hope Uncle Billy prays hard. This is a long race with two gargantuan hills.
Utica streets in July. Hot. Stinky. Littered with bodies of runners that were ahead of you. They don't call it a Boilermaker for nuthin!
You better get training. And I don't mean piddly 1.5 mile flat runs. Long hilly runs!
Now do it!
Muah-hahahahahahaha! (that's my evil laugh)
And, this was my reply to my loving sister:
Oh dear Jessica. You are going to be crying like a baby when your little sister finishes the Boilermaker with you...even if it is 2 HOURS behind you!
Har har har har <------------ this is my nerdy, dorky, slow runner laugh.
Love and miss you both! Even if you are evil, Jessica Lee.
We always did have a funny way of showing our love, but I think this might take it to a whole new level.