In case you missed the news on Wednesday during my drunken shoe porn post, I purchased a new pair of running shoes. One of my favorite things in the whole world. I bypassed all of the spring beauties in my local shoe mecca (a.k.a. DSW Shoe Warehouse), and opted for new running shoes. How very practical of me.
I tried on approximately 8 pair of running shoes that day, and even went so far as to take my custom orthos out of my shoe and insert them into the potential new running shoes.
Gross you say?
Maybe.
But I'm just not taking any chances with my money...in this economy. PS...is anyone else sufficiently sick of hearing that phrase yet? Me too!
The Nike Air Pegasus+ 25 was smack in the middle of my running shoe party at DSW. I ended up trying on several pair before and after, and ultimately went back to the Air Pegasus+ 25 and tried them on again. This time, both feet.
And proceeded to walk around the entire clearance section wearing them.
For about an hour.
Hey, like I said. I'm not taking any chances with my money. In this economy.
After wearing them for 1/2 of my adult life, I felt sufficiently satisfied that these were "the ones", and paid $74.95 for them. I thought this price was very reasonable. Especially considering the fact that I had just worn them for free for the past hour. The least I could do was pay for the rest of my time with them.
Some info about the shoe itself from the Nike website:
Celebrating 25 years in the making, the Nike Air Pegasus+ 25 Women's Running Shoe is the most advanced incarnation yet, including Nike+ technology to help track your training progress.
Nike+ enabled for instant workout feedback when used with a Nike+ SportBand or iPod® nano and Nike + iPod Sport Kit
Built on women's specific last just for her
Breathable mesh with 360-degree supportive overlays
Full-length Air-Sole unit embedded in PU midsole
Women's radiused Crash Pad with women's Fitsole
BRS1000 carbon rubber heel for durability
Waffle pattern outsole for responsiveness and cushioning
Weight: 9.6 oz. based on Women's size 8
Appearance-wise, these shoes are very cute. The green/dark grey combo makes me think "spring". And who couldn't use a little more "spring" in their life?


Speaking of spring.
One of the first tests that I do on all runners before I even try them on is the "spring" test. I bend back the shoe from the toe to the middle, and see how easily it rolls into itself, and then see how well it springs back to normal. According to my PT, this is one of the things that I need to be concerned with because I have a chronically rigid foot. If the shoe is rigid at the mid-foot (arch area to the ball of the foot under the toes), then I'm screwed. Shoes like that cause me to run like I have on cement shoes...all cloppy and heavy-footed.
Out of all of the runners that I did my incredibly scientific "spring" test on that day, these were the ones with the most flexible sole. Some of them didn't even make it on my foot because they couldn't pass my spring test. Poor things. They never had a chance.
The color of these shoes is actually much brighter than is depicted on the Nike website. And, by "dark gray", they actually mean "silver". Because It's not dark gray. Unless I'm color blind or something.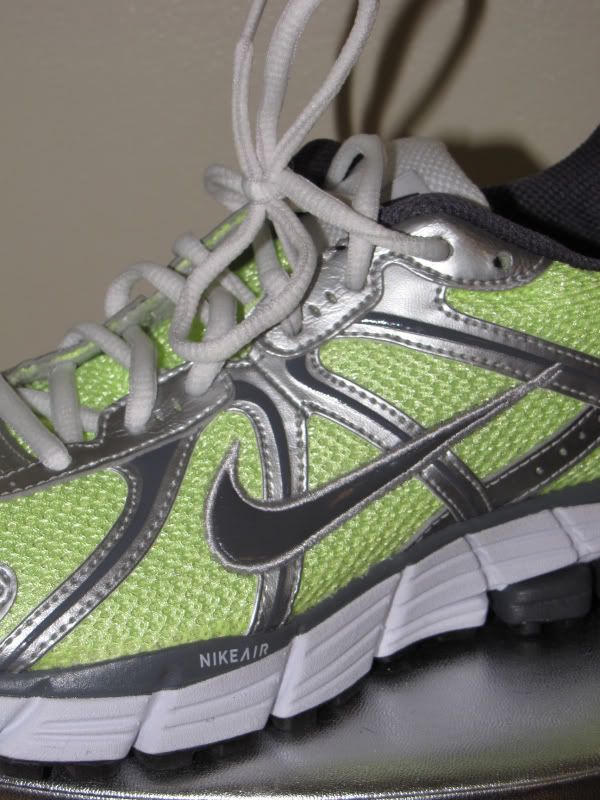 Last night, I inserted my orthos in place of the regular Nike insoles, and prepared for a 4 mile spin in my new Air Pegasus+ 25's. When I got everything all tied up and ready to roll, I noticed a bit of slippage in the heel area...like my foot was too high in the shoe due to my insole, and was going to be uncomfortable during the run.

I also notice this with my standard Nikes...and my Saucony's. I'm thinking that my orthos might be a little too "built up" in the heel. Up until last night, I was just running with them anyway, and not thinking much of the "slippy heel" issue.

Rather than continue being a fu$kt@rd, (thanks GQH-that's my favorite new word) and running with the insoles, I opted to remove them and use the standard Nike insoles.

The Result:

I loved them!

My calves were already sore yesterday when I started running from doing stability work on Moday and Tuesday, but I didn't have any knee pain at all during my run. My calves didn't ache or provide any additional pain...in fact, they felt much better as I kept running.

I found the shoe provided just enough stability for me to feel comfortable, but not so much that it felt rigid. Although Nike is not notorious for their "stable" running shoes, I found that these were a good neutral shoe with a fair amount of cushion to absorb the pounding of my large man-calves on the pavement.

With the subtraction of my insoles, I'm also starting to feel like I'm not so high-maintenance in the running department, and that was an awesome feeling.

The Day After:
My calves are still mildly sore today, but not more than they were prior to the inaugural run of the Air Pegasus+ 25's. No knee pain, no calf pain, and no excessive calf tightness.

My final verdict is that these runners get the Jogger's Seal of Approval. I'll run with them daily now.