The day has finally arrived!
I say "SPIbelt" winner (not iFitness winner) because I'm sorry people...the iFitness belt arrived sooner, and I used it. My bad. I just couldn't wait. So, the winner will receive a brand spanking new SPIbelt!
Don't forget to give me a short report back and let me know how you feel about it.
If you don't, I'll cry. And probably stay up late at night wondering if you loved your SPIbelt or hated it.
For everyone that didn't win, I'm sorry. I really am. I wish I could buy all of you a SPIBelt. Unfortunately, I just can't. What I can do, however, is give you a coupon code to save 10% on your SPIbelt order! The lovely Molly has granted me permission to publish the SPIBelt coupon code for all of my fabulous blog readers to enjoy! All you have to do is go to the SPIbelt website, throw one of the little cuties in your cart, and just plug in the magical coupon code of 8022 to receive your discount.
And now, for the winner!
There were 11 comments on the blog post, but one was a duplicate, and one was spam (stop it, spammer!). So, the winner is being chosen from 9 entries. And, if ya ask me, those are some pretty sweet odds!
Oh...you didn't ask me?
Sorry.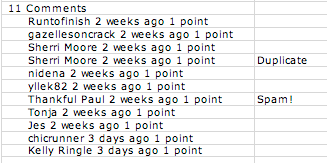 Yay #1 Runtofinish wins! So, Amanda, email me your mailing address to joggerslife@gmail.com, and I'll get the goods out to you ASAP! Congrats!